Portsmouth's New Skateboarding Accommodations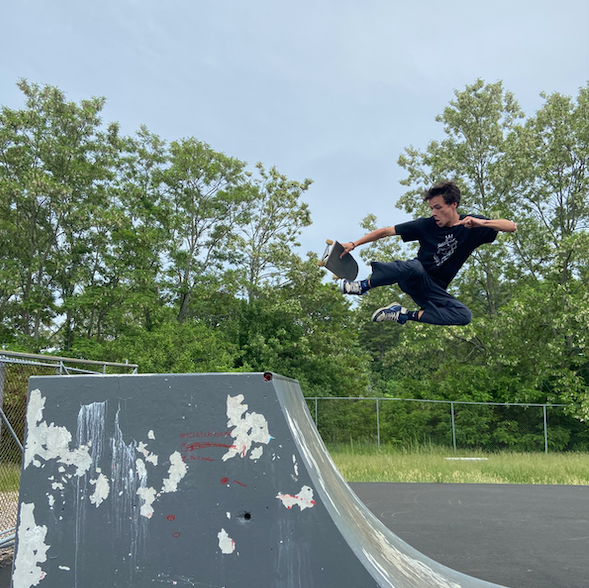 The Portsmouth skating community has long since been deprived of free and public locations to skate. When Rye Airfield closed down in early 2021, skaters were left with few options. That all started to change earlier this year when a few local high school skateboarders decided to do something about this lack of availability in Portsmouth to enjoy the sport they love.
For a long time the only public skate park in Portsmouth was Greenleaf Skatepark, located at the Greenleaf Recreation Center. However this park had fallen into disrepair long ago and was in dire need of an upgrade. 
Seamus Durkin, local skater and PHS senior, started up the initiative to repair their skatepark. When asked about the conditions at Greenleaf before the renovations, Durkin said, "Everything was cracked, the mini ramp was basically unusable, just overall bad."
With help from the city of Portsmouth, Durkin and fellow skaters lead the project on renovating the Greenleaf skatepark. 
The park now has fresh pavement and new skate features. Durkin said, "I love the new features; they are very skatable."
The city of Portsmouth still has plans in the works to build a totally new skatepark. Although construction hasn't started yet, local skaters are eager to see what new features it might bring.
When asked about the plans for the new skatepark, Greenleaf skatepark regular  Sebastian Borden said, "I'm extremely excited, I've heard about it coming out, and I just can't wait."
Until the new park is built, locals will enjoy the newly renovated Greenleaf skatepark.
In recent years, skateboarding has been on the rise in popularity in Portsmouth. The addition of a new and an upgraded skatepark will help better accommodate the uptick in riders who are new to the sport.