Pep Rally Review
Last week's pep rally was a success in the eyes of many. With new activities, big numbers in spirited people, and championship banners for many, the rally was once again eventful.
Hang on for a minute...we're trying to find some more stories you might like.
Starting off the pep rally was the famous mosh pit. The hype was shown through the energy the seniors gave off, getting the crowd more ready for the rally.
The occasional dancing and chants came as expected, along with some questionable ones such as the seniors yelling "0-19," which confused some of the junior class.
To many people's surprise, after things started to settle down following the "pit", the teachers all crowded the floor and started doing Fortnite dances making many students cringe as it took place. People had seen teachers practicing beforehand but were confused. Now we know.
The announcement of the championship banners were held and it included the Varsity Baseball team, the Boys and Girls Varsity Spring Track, Girls Tennis team, Boys Varsity Basketball, Girls Varsity Lacrosse, and runners up included Boys Varsity Winter track, and Boys Varsity Lacrosse.
The activities this year were entertaining as always. This year the school held competitions in knockout, tug of war, dodgeball, and the new introduction of the scavenger hunt musical chairs.
Juniors took the dub in knockout this year with Cole Fuller coming in clutch against the senior class.
Dodgeball was freshman and seniors vs. sophomores and juniors. This one was much of a blowout with seniors and frosh dominating most of the match.
The knockout was easily the most suspenseful of the competitions. Coming down to the wire, junior's very own Cole Fuller battled hard and beat senior Arianna Hebert in a close one.
The tug of war was won in a good old fashioned battle of teachers vs students in which the students could not pull out with the win leading to a teacher victory.
A new introduction to this years rally was the musical chairs scavenger hunt. It was a new spin on the traditional musical chairs and allowed students to go into the crowd to find things such as "nike shoes" and " a pair of twins"
It got the crowd involved with the game and was a success and have people looking forward to next year's rally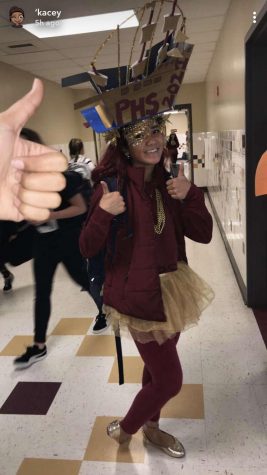 Lastly, bringing home the trophy for most spirited was the sophomore class headlined by Deja Srimouksavanh and Nick Norris both of whom won most spirited for their class. "It felt really good" Deja said. Deja even mentioned how she didn't expect to win!
The student council did a great job for the 2018 pep rally and it definitely showed with one of the better rallys of the past few years. Nexts years should be even better!