Taylor Swift's "Enchanting" 13th Show at Gillette Stadium: An "Eras Tour" Review
"I love numerology, specifically the number 13," said Taylor Swift at her Gillette Stadium performance in Foxborough, MA on Sunday, May 21. "My very first NFL stadium show was 13 years ago and it was right here in Gillette Stadium. And here we are 13 years later, and tonight I get to play my 13th show at Gillette Stadium for this beautiful crowd," Swift continued.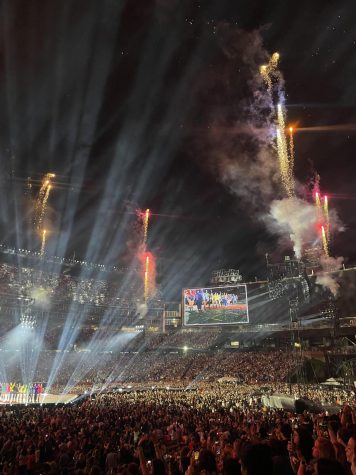 I guess you could say I am "The Lucky One," because I scored tickets to this magical show, and I am here to give you all the details.
Swift performed at least one song from nine out of ten of her albums, excluding her first album, "Taylor Swift." The idea is brilliant and special, taking her fans on a journey of her music career through performance. There was a song for everyone, from her gut-wrenching ballads like "Tolerate It" and "My Tears Ricochet," to Swift's upbeat pop songs like "You Belong With Me" and "Karma."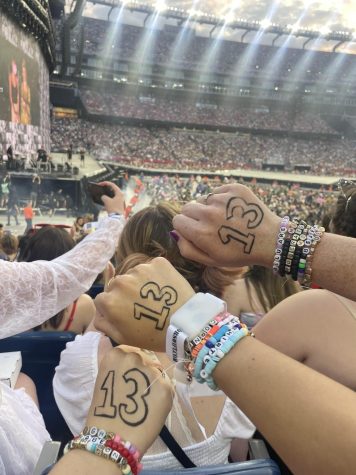 The opening acts at the May 21 show were Gracie Abrams, a rising indie pop artist, and Phoebe Bridgers, an alternative/indie artist. Swift has m
any different openers for this tour, but these two are the best by far. Abrams' beautiful voice, humble attitude, and vulnerable music, along with the fact that I could sing along to her songs, made her an incredible act to watch. Bridgers' songs vary in how they sound: nostalgic, sad, upbeat, and romantic. This made her performance engaging, fun, and memorable. 
One thing I appreciated about this show was the efficiency. Abrams' set started five minutes early, and Bridgers went on stage shortly after her. Swift came on a few minutes early, causing my friend to rush back to her seat with hot dogs in her hand as the countdown to Taylor started. Typically at concerts, by the time the main act is on stage, I am tired and grumpy from waiting so long, but this was not the case for "The Eras Tour."
Swift kicked off the show with the "Lover" era, singing the lyrics, "It's been a long time coming" from her song "Miss Americana and the Heartbreak Prince." I think this is the perfect way to start her set, as she has not performed live in five years. The pink and orange theme of the stage complimented her bedazzling outfit and corresponded well with the sunset. Perfect timing.  
The transitions between the "eras" were only about one minute long (props to Taylor for those quick changes). After the second hour, people started using the transitions to sit down and rest for a moment before they got up to sing and dance again. These pauses were actually helpful, so thanks, Taylor.
For each concert of the tour, Swift plays two surprise songs, which fans highly anticipate each night. The first surprise song was "I Think He Knows" from "Lover." I love this song, but there are other songs I would have preferred like "Long Live" or "Right Where You Left Me." For her second song, Swift intended to play it on the piano, but could not because the keys were playing phantom notes from rainwater damage the day before. With a quick change in plans, Swift picked her guitar back up and performed the song "Red" from memory. I was o
ver the moon with her choice to play this iconic tune.
The production, dancers, props, and Swift's high energy throughout her lengthy show made it clear to me that deep thought and preparation were put into this performance. Fire torches lit up the stage during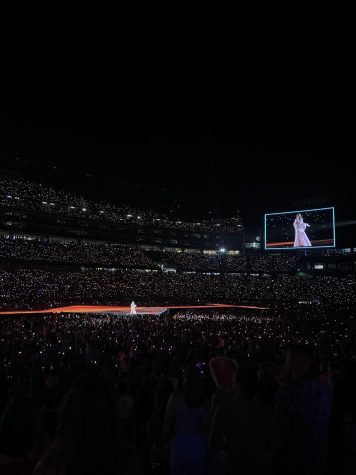 "Bad Blood." The stage was converted into a foggy, ethereal forest with fake trees and a small cabin for "Willow" in the "Ever
more" era. Rainbow confetti and fireworks blasted throughout the last song of her three-and-a-half-hour set before she disappeared into the stage and the fluorescent stadium lights turned back on. 
Back in November, I fought in "The Great War" to get these tickets, and I can tell you that the six-hour wait in the Ticketmaster queue was well worth it. Swift does not sell out stadiums (with additional thousands of people outside of the stadium to just hear her voice) around the country for nothing. Swift, her band, her production team, and her dancers put on an exceptional show that I will never forget.