PHS Franchise Fair Offers Opportunities for the Business Pathway Students
On Tuesday, May 23rd, Portsmouth High School hosted its 13th annual franchise fair exposition for the Introduction to Business Course. Students, faculty, and parents gathered for this highly anticipated event, which has become a cherished tradition within the Portsmouth High School community.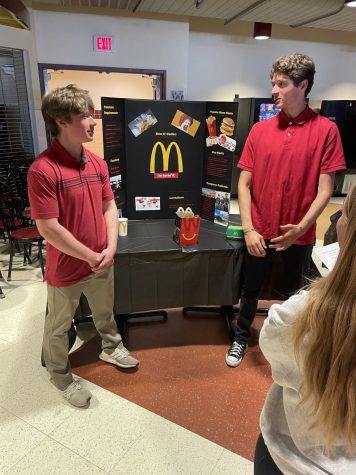 The fair was founded by Vera Haus, a former business tycoon turned Portsmouth High School business teacher. Haus initiated the project to provide an opportunity for Business Pathways students to showcase their presentation and soft skills in Introduction to Business.
Working together, Courtney Ritchings the head of the CTE department since 2010, and Vera Haus played a pivotal role in establishing the business program at Portsmouth High School. Since its inception in 2008 with only seven students, the program has grown significantly, now boasting an enrollment of 220 students in 2023, according to Haus.
Recognizing a decline in real-world experience and hands-on learning among her students, Haus, a former college-level teacher, and Ritchings emphasized this crucial aspect of business in the developing curriculum for the course. Ritchings believes that this experience not only helps students with future internships but also aids in recognizing strengths and developing weaknesses.
"[The fair] provides valuable insights into the economy," said Caden Tapscott, a PHS sophomore. What began as an introduction to the field of business has now become an integral part of the course curriculum, with some students considering the fair their favorite aspect of the class.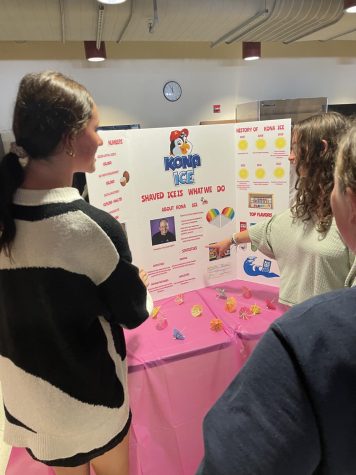 Margaux Freer, a PHS junior, said, "The fair creates an active learning environment where students can learn from their peers and gain familiarity with different businesses."
"The fair enables students to identify their comfort zones in public speaking, refine their attire choices, and reflect on their performance for future improvement," explained Ritchings. She firmly believes that students who participate in the franchise exposition develop a growth mindset and a better understanding of how the world of business truly functions.
The franchise fair exposition at PHS continues to be a success, empowering students to develop essential skills and gain valuable insights into the world of business.