Eyes on the Prize
The Portsmouth baseball team is determined to get to the state championship game this year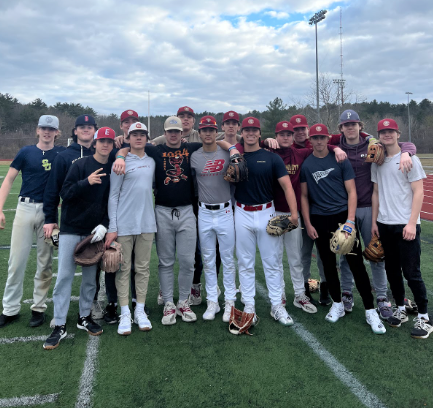 After a tough loss in the semi-finals last year, the Portsmouth High School baseball team is determined to make it to the state championship this spring. 
Head Coach Timothy Hopley says that the team is feeling optimistic and has six returning players that have done the work in the off-season. Hopley believes that these players are prepared to lead the way for the Clippers this season. 
Returning players include seniors Matthew Minckler, Elliot Miles, Boden Driscoll, Frank Krupp, Sebastian Lampert, and junior Jake Carlisle. Senior, Duncan Cullinane, would also be a returning varsity player but is out from a recent ACL surgery. 
Hopley says that the goals are the same as always for the Clippers: "work and compete every day, be better at the end of the season than we are in the beginning, earn a first-round home tournament game, and be in a position to win a state championship."
Boden Driscoll, a returning varsity pitcher, echoes his coach's words "[it's] the same goal every year, win the championship."
Frank Krupp, a returning varsity catcher, says that the team has practiced all winter and is ready for the season to kick off. He too expressed that the team's main goal is to "go undefeated and win the ship." Krupp also added that he hopes the team develops a strong bond during the season.
According to Hopley, Division I high school baseball in New Hampshire is very competitive, and "any one of 7-8 teams could win the state championship [each year. However, this year], based on who they return, Londonderry probably wears the bullseye at the start with Bishop Guertin and Pinkerton [in] the mix as well."
Last year, the team graduated six seniors. When asked how this will affect this year's team, Hopley responded "any time you lose six seniors, each with three or four years of varsity experience and four of whom are currently playing in college, you're bound to take a step back. But we're hopeful that the nine first-year varsity players on our roster this season will grow and mature and give us a chance to be competitive come the end of May into June when the tournament rolls around."
The Clippers are scheduled to open their regular season on Monday, April 10th at home vs. Nashua North.