Purge of The Wetlands
Since 1900, wetlands have been constantly destroyed in the name of "agricultural interests". According to United Nations Climate Change News, 35% of all the world's wetlands were devastated from 1970-2015. Driven by urbanization, the pace of destruction is constantly accelerating. 
This is a major problem for many reasons. For one, wetlands are crucial to the global ecosystem. They are critical for regulating the global climate.
Around 40% of the world's species thrive in wetlands, and currently 25% of those plants and animals are endangered. The Ramsar Treaty protects over 13-18% (400 million acres) of wetlands, but it just isn't enough.
"It's a prominent issue that needs to be addressed," says one PHS student. 
Wetlands are important for not just wildlife, but humanity as well. Over a billion people worldwide depend on freshwater produced by wetlands alone.

Society is dependent on wetlands, which produce food, genetic resources, raw materials and hydroelectric energy. Wetlands also provide access to transportation and tourism.
Wetlands are vital for defending against floodwaters and storm surges. They typically absorb the rapid waters before property can be damaged.
This bird's eye view of a Target parking lot in Greenland, NH displays a prime example of wetlands being destroyed for urban construction.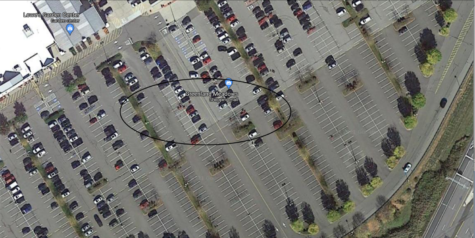 The black circle shows the border between what used to be wetland and normal land. 
The construction company that paved this parking lot had to account for the wetland, and had to pave specific asphalt over it (dark portion).
Despite conservation efforts, wetland destruction is constantly ongoing. If wetlands completely disappear from the planet, someday society may not live to see the sun rise again.