Clippercats 2019: Sights Set on Playoffs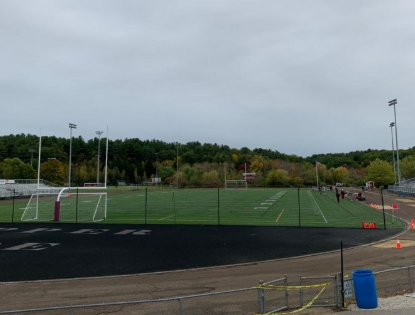 Aidan Palermo, PHS PaperClip writer
October 16, 2019
Last year, the Clippercats had a miserable season. They finished last year with 1 win and 8 losses. After a long off-season and a lot of hard work, they have started the 2019 season at 3-2. 
Players are feeling better about this season. Not only because they have already won more games, but because the team feels closer.  Players feel that their teammates are more involved and stronger than last year.
After a tough first season, the Clippercats are starting to figure things out. Allowing Oyster River kids to play is paying off. Players on the team had only good things to say about the Oyster River kids. Defensive linemen, Nolan Pafford said  "They have been a big help. Having them on the team helps not only numbers but team morale. I don't think people understand how much they do."
So far this year, the team has performed well. Offensive and defensive lines have been two of the high points of the season so far. The run-defense has also looked good this year. According to wide receiver Oscar Lalime, team strengths include, "Defensive line, Quarterback, Our whole team pretty much."
As with any team, things can be improved. Finishing in the red zone and pass defense could be cleaned up. Pafford would like to work on consistency, "We need to start a game and play 4 quarters. We can't start sluggish play 2 good quarters and end sluggish".
It's still early in the season, but players are feeling good about the second half of the season. Making the playoffs this year is a real possibility and many players on the team feel that this could be a championship year!