A Workshop for Student Welders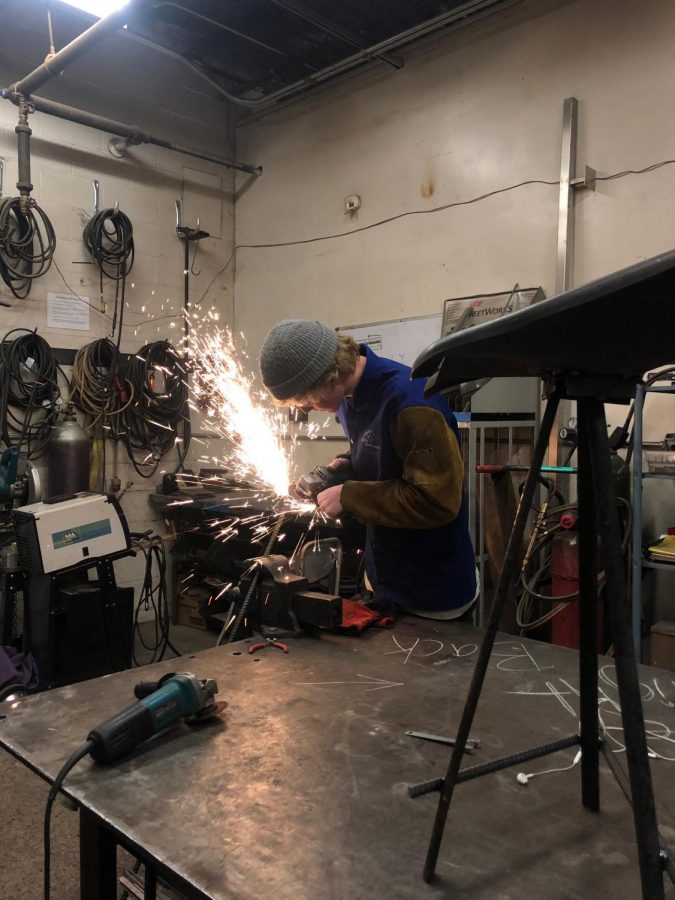 Sage Charache, PHS Paperclip Writer
January 16, 2019
Students at Portsmouth High School are involved with a multitude of different activities including sports, music, theater, clubs, and for some students, welding.
Welding is one of the elective classes at the high school, which prepares students for trade school or independent work of their own. While many students excel in this class and plan to utilize the skills they learned there for their future, they can only access the welding workshop while enrolled in the class, so once the class ends, so does their work.
Fortunately for these students, there is an alternative option outside of Portsmouth High School where they can continue their work, called the Port City Makerspace. This space was created by Zak Robinson, Ross Beane, and Clint Crosbie in efforts to provide the residents of Portsmouth with a workshop and community for artists and crafters alike to collaborate and create.
Members of the Makerspace pay a monthly fee that varies depending on the accessibility they would like. For access during regular hours members pay $50 a month, and for those who prefer 24-hour access, they pay a monthly fee of $80. This fee pays for full access to the materials in the workspace and the ability to use the various tools. Before independent work can be done, new members are taught how to use all of the machinery to ensure a safe work environment.
The Port City Makerspace is a perfect environment for welding students who wish to continue their work outside of school and for those who want a more independent space to work in. Some students have already begun to use this space to their advantage such as a Portsmouth High School senior, Caleb Begley. When asked what Begley liked about this space, he responded, " It has basically any tool you'd ever need for a project, a craft, or piece of art. It has a very interesting and diverse community that is full of people who can teach you new skills and you can share ideas with. You have total creative freedom here to make anything you want."