Steal a Base, Steal a Taco Baby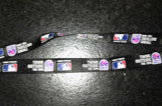 Henri Walsh, PHS Paperclip writer
October 29, 2018
On Tuesday October 23rd, in Boston, the Boston Red Sox took on the Los Angeles Dodgers, which ended with many "wins" for Boston fans. First of all, they won the game 8-4, but that isn't important in this story.
Mookie Betts stole a base which means that everyone gets free tacos! To be more specific, he stole second base which means Taco Bell is giving out free Doritos Los Tacos on November 1, from 2pm – 6pm.
This campaign, started by Taco Bell around 10 years ago, is called  "Steal a Base, Steal a Taco."
Over the past decade others have made the same accomplishment as Betts and these include Cameron Maybin, Jacoby Ellsbury, Jason Bartlett, Ángel Pagán, Lorenzo Cain, and Francisco Lindor.
It is a generous tradition for Taco Bell to continue to do to bring a little added excitement to the World Series.
"It is a great and now nationally beloved tradition and I absolutely commend Taco Bell for doing such a thing, " says Cam Seefried,  a Taco Bell and MLB fanatic.
He went on, "I even have a Taco Bell MLB lanyard that my mom bought me in 2004, that is how long it has been going and how popular it is."