Local Rock Band: Granite Danes
Portsmouth High School holds four talented young men who come together to write and perform music. They call themselves Granite Danes.
The Granite Danes, made up of: Reece Leddy (17), Ian Hawkins (18), Declan Nuchow-Hartzell (17), and Rocky Capone (17), has been playing and writing music together since 2021.
They describe themselves as a "messy rock" band, and were influenced by various bands such as Metallica, Sum 41, and Parkway Drive. "If you like rock in general, any type of rock really, there would be at least something you'd like of ours," explains the lead singer and bassist Reece Leddy. 
Students at PHS have taken a liking to the band containing their peers. "It goes hard, I want to mosh to it," commented PHS junior Eli Gravelle. 
All members of the band have an equal amount of importance in the group, regardless of instrument and/or role one of them has. When the Granite Danes began meeting to play music, they all had agreed it felt awkward. But that quickly transformed into a strong relationship between them. "We've gro
wn so comfortable with each other that we can talk about anything," says drummer Nuchow-Hartzell.
Their brotherly bond made their teamwork and desire to perform grow exponentially. The Granite Danes have participated in eight shows since they began in 2021. They have played in:
National Guard Concord High School Battle of the Bands, NH, November 2021

BrattRock, VT, June 2022

Greenland Summer Concert Series, NH, June 2022

BrattRock 2.0, VT, November 2022

Portsmouth Battle of the Bands, NH, January 2023

Square Root Café, MA, February 2023

PHS Talent Show, NH, March 2023

Pressroom, NH, May 2023
Granite Danes have another performance coming up on June 17, 2023 at the Stone Church in Newmarket, NH. They are opening for the Wizardists. Tickets can be purchased in advance for $15, and more information can be found at www.stonechurchrocks.com
At each event, the band sells shirts with their logo. "Any support means the world to us, like seeing someone wearing a shirt of ours while walking in the hallway makes us feel recognized," according to guitarist and singer Ian Hawkins.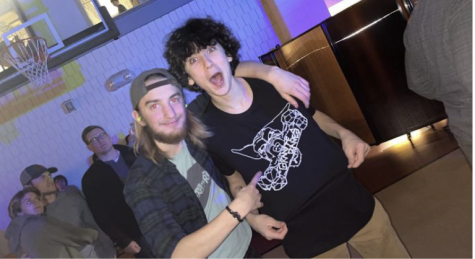 Music by the Granite Danes can be found on Spotify, Apple Music, and Amazon Music. You can find their social media accounts on various platforms with the handle @granitedanes or @granitedanesband.