Passionate People at Portsmouth High School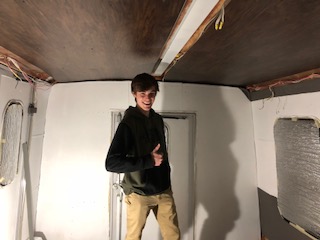 Aiden Aliouche, PaperClip Staff/Writer
December 22, 2018
Here at Portsmouth High School there are a handful of students pursuing their dreams. These dreams range from Van Life living to musical careers.
John Wyman, a senior at PHS, has put his dream into motion, recently buying a minibus. He's currently converting it into a house on wheels and will be living out of it in Jackson Hole, Wyoming in 2019. "My parents and friends have been super supportive of my decision, I know I'm going to miss them when I'm gone, but anyone is welcome to come visit me, and I'll be back for the summer," Wyman said when interviewed.
Freddie Hunter, also a senior at PHS, has been drawing art for his own entertainment for years. Just this year, he has taken to printing his art onto stickers and selling them on his various social media accounts.
Alex Tavares (Josiah), Malachi Gaunya (MG!) are two PHS students who are pursuing their passions of music on the platform SoundCloud. The SoundCloud community at PHS has been steadily growing these past couple years with these students proudly shining the way. Other rappers/singers/producers from PHS include Brody Cutter (Brocardi), Eva Kozikowski, and Evan Lyng (LYNG).
These students have been juggling school, work, sports, and other extracurricular activities, while still finding time to work on their own dreams.